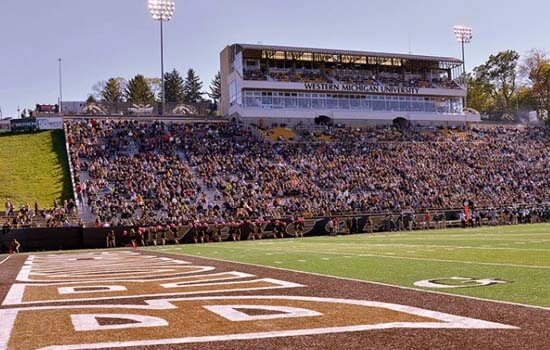 There's plenty of tailgating to do in Kalamazoo. Have you ever headed to the game in a party bus? It's tailgating like you've never done before! There's also a few benefits to choosing a party bus for your tailgating needs. Comfort and style are just the beginning - have you ever been stuck in rain or other bad weather tailgating? Not an issue when you have a bus. And designated driver? That's us, so drink it up!
When you have a party bus as your tailgating vehicle, you'll find that not only do you have a super comfortable vehicle, but that you have a ton of space and can take a huge group of friends with you. You can all hang outside and grill and drink, or relax in the privacy of the vehicle with a drink or two! Or maybe you've even made a family affair of the day and the kids want to watch a movie - if you have a party bus, you'll have HDTVs and DVD players to keep the kids occupied while you enjoy tailgating.
What if there's a rain delay? No worries, just hang on the bus until the bad weather passes! And since it's a party bus, you can be sure you'll be enjoying a party! Movies, drinking, dancing, whatever you want to do to kill the time you can do on a party bus! This is a much preferable scenario to that of being stuck outside under a tent or in a cramped pick up.
We hope you'll consider us the next time you're heading to the game, be it at Western or all the way in Detroit. A party bus is a fantastic tailgating vehicle and we look forward to giving you more details and setting up your reservation! Give us a call any time at 616-202-5111! For a short ride outside of West Michigan check our friends at Detroit Sporting Events